Not that long ago I learned how to make a repeat pattern using Photoshop.
I wanted to use pattern for some of my products in my Society6 shop. I love the way some of the other artists at Society6 us pattern on the pillows, duvet covers, shower curtains and tote bags. I'm always up for learning new things so I thought I'd try it out with some images I already had.
Pattern making was so much fun, once I got the hang of it. I just wanted to make everything into a pattern and now I want to learn more techniques other than a basic repeat.
Once I got going I remembered some friends that had made some patterns into fabric at the Spoonflower website. I thought that could be fun and I opened a shop there.
As I was exploring the Spoonflower website I saw that they have a weekly themed contest. As I clicked on the contest page I hoped that this week's theme would be "Birds". Ha, ha that would be too easy. It wasn't "Birds". It was, "Ballet" and the deadline to enter was that night at midnight.
Thanks to my ballet dancing daughter, I was already planning a ballet design. And It just so happened that earlier that day I had taken pictures of my daughter's feet in the five basic ballet positions.
My daughter who sometimes acts as my art director needed a new bag for ballet and she had the great idea of a pattern with the five positions.
So, once dinner and homework was done I went up in the studio and drew my daughter's feet.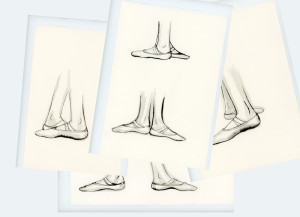 I used the internet to make sure I had the positions correct and in my research I learned the french names for the different positions. So, I added some hand lettered text to the pattern with the french names bellow each foot position. I added a touch of ballet pink and a few transparent butterflies.
As the French say, "Voila".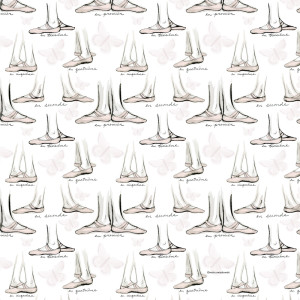 I got the pattern done in time for that midnight deadline with five minutes to spare.
I didn't win the contest that week, but I did have one very happy client.