I was excited to sell this little painting (3″x4″) at the reception for my "Quick Mini Morning Sketches" show.
As much as I was happy to get the money. And I was delighted that I successfully managed to charge the buyer's credit card by using my phone (for the first time). These weren't the things that gave me the most joy about the sale.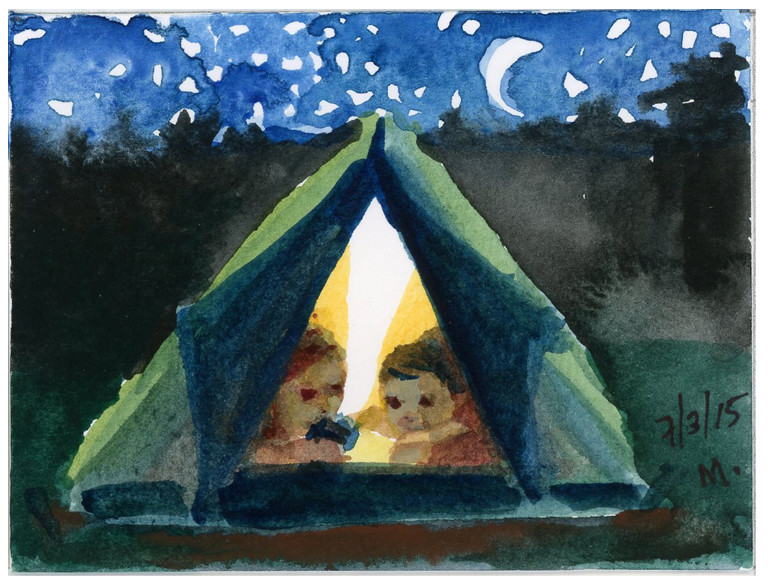 All of the paintings from this series are done on a small scale without a lot of contemplation (as explained here http://moiraswiatkowski.com/2015/06/16/coffee-and-watercolors/). The idea for this one quickly came to my mind. I had recently heard a friend talking about their kids camping in the back yard which made me think of my own memory of pitching a tent in the backyard with my sister. Those fresh thoughts were right there for me to grab and put on paper.
The man who bought the painting saw the picture at the reception and it reminded him of his own childhood and an experience with his sister.
His sister is a friend of mine and that's how he happened to be at the reception with her. While he was holding the painting in his hand he shared the story of how he and his brother would play army and make the sister be the red cross nurse. This role mostly involved sitting in the tent waiting while the brothers ran off and played.
I could see as he was telling the story that he was putting himself right back there and that's what really made me the most happy. This little painting that was created out of a few sparks from my own mind could act as a little window into the mind of someone else.
To see more paintings for sale from the "Quick Mini Morning Sketches" series follow the link to my Etsy page https://www.etsy.com/shop/atlanticmo