Last week I took the boogie boards, beach chairs and umbrella out of my car and put them in the garage for winter storage. I even vacuumed the half ton of sand that we progressively brought home from the beach this summer.
Summer is over, for real.
Thankfully, Fall is so dang beautiful here in New England that it distracts us from what we know to be true, Winter is coming.
I had some other good distractions this month.
I had a show of the Mini Sketches at the Dennis Public Library. The show had a good response and even some sales. The show is currently down now but you can check out the Mini Sketches for sale from the show here https://www.etsy.com/shop/atlanticmo?ref=hdr_shop_menu
The other fun thing I did in October was Inktober. I drew 31 ink drawing for all the days of the month. This year I did a sequential story based on a real story I heard about some birds that helped each other out. I made a video so you can see the story unfold. It's on my YouTube channel here, https://www.youtube.com/watch?v=mTF-dscagu8 .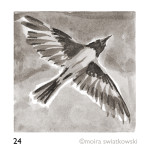 I've started a new series of morning sketches. I am randomly choosing different characters from the Nutcracker ballet. I am working on a story about a little ballerina and this will help me work out some ideas and keep my mind on ballet.
If you want to follow along check out my Instagram  here, https://instagram.com/atlanticmo/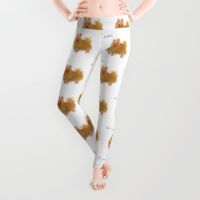 As per request I have added some dogs to my Society6 shop and I will be adding more as we get closer to the holidays. They have leggings now which I think I might just need a pair. Check those out here, https://society6.com/atlanticmo/prints?show=new
For the next couple of weeks I'll be working on some stories and portfolio pieces. I will have another postcard going out after Thanksgiving. Email me if you want to be on the mailing list.
moiraswiatkowski@gmail.com
It should be a pretty busy month which hopefully will end with me eating some pumpkin pie.